Basilar-type Migraine
: BTM is a type of Migraine, a little more difficult to treat then some other Migraine or Migraine with aura Migraineurs. This is because most of the medications used to abort Migraines, are contradicted for BTM. Symptoms of Basilar-type Migraine may mimic other types of illnesses, so it is very important to rule out other possible illnesses by having a CT (CAT Scan) and/or an MRI, just to make sure there is nothing else going on.
Migraineurs suffering from BTM should wear an ID bracelet in case of emergency, since the symptoms of an attack can mimic other health issues.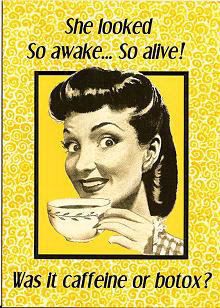 Botox:
I'm sure you all know what this is! Yes, it's not only used for cosmetic reasons anymore! It has shown great success with tension-type headache and other conditions. It is not exactly administered they way it would be if being used for cosmetic reasons. Botox for Migraine and TTH is shot not only in the forehead, but around the jaw, and also in the back of the neck.
If you are thinking of Botox for Migraine, please check out the following links:
Just a fair warning though - there may be a lot of back and forth with your insurance, if you decide to go this route. So be prepared.