Well, at least that's what the kids call it.
Ah, yes, ketamine.
I was recently reminded of this drug when I was over at the
Migraine News Network
which is also my friend Rain's site.
In one of her recent posts, she mentioned an article,
Night club drug could ease depression
, on how ketamine can actually help ease depression!
For those of you who didn't know, ketamine is also used in IV therapy for migraineurs. See this wonderful article:
IV therapy for Refractory Migraines
by Teri Robert about Dr. Krusz down in Huston who is know for his IV therapy and of course, his kind nature towards patients! Love ya Dr. K!!!!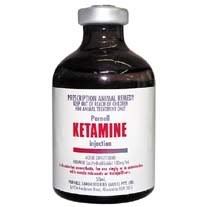 I found this funny because well, back in the day I used to go to the club, and although I never personally did "K" or "Special K" I just remember all the hanging "K"s all over the place (think the Kellogg's red K).
Also, I had a friend that worked for a dentist. Well actually and oral surgeon. His drug of choice for putting children under? Ketamine! Yes, he would put these children into a K Hole because the side effects from the Ketamine are less then those of the other drugs.
The one little interesting side effect of a "K Hole" is that as you come out of it, you act as if you are a child again, like in utero. Yep, you may actually curl up in the fetal position and gurgle like a little baby. Interesting side effect isn't it?
Now, of course, the amount being used for IV therapy for Migraineurs is obviously not the same amount as what a dentist would used to actually put someone under....
But I still found the whole thing very interesting.....